Human Resources
Our success as an organisation really does rest on our people. It is vitally important to us that our staff feel valued, supported and able to fulfil their potential at the RCN. The aim of our award winning human resources function is to enable a positive working environment that results in a high quality service for members and creates value for the business.
Learning and Organisational Development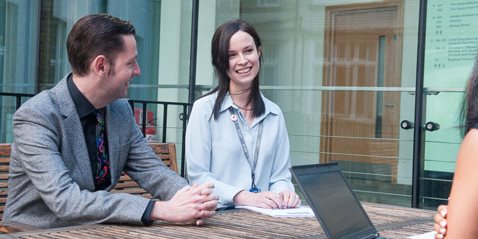 The Learning and Organisational Development team is responsible for influencing ways of working across the RCN and encourage a planned approach to change. There are many exciting things to get involved in and no two days or areas of work are the same. You will help shape individual and organisational behaviour, ways of working and the environment within which we work to enable staff to adapt to challenges and change. You could be working on designing and commissioning or delivering learning initiatives to support our continued success. Other priorities for us are leading on organisational wide initiatives such as succession planning, management and leadership development, embedding the importance of good mental health and support for this and our continued association with Investors in People and Best Companies.
Human Resources Operations
Our HR Operations team aims to provide consistent and expert guidance for all our employment activities. As a member of this team you'll need to maintain constructive working relationships with trade unions and employee forums to enable negotiations on behalf of the business and RCN staff. Your work will include:
employee relations
recruitment and selection
terms and conditions of employment
health and wellbeing
payroll and workforce administration
policy development
management of change.
Reward and Systems
Join our Rewards team and you'll help us provide a cohesive and systematic approach to staff remuneration and benefits. You'll design RCN reward polices in support of our organisational objectives and maximise employee data integrity and process efficiency.
Health and Safety
Our Health and Safety team aims to ensure that our staff are as safe as possible while they are at work. As a holder of British Occupational Health and Safety Management accreditation (BS 18001:2007), we provide training and co-ordinate networks of health and safety leads, first aiders, fire marshals, display screen equipment assessors, and health and wellbeing advocates across our office locations.
Why apply?
Working within HR gives you the opportunity to develop your skills while supporting your colleagues. We regularly recruit apprentices and so whether you're just starting out on your career or you're looking for an organisation that can benefit from your expertise, we'd love you to join us.