Knowledge and Innovation
Our Standards, Knowledge and Information Services (SKIS) team inspires excellence and investment in nursing through authoritative professional leadership. Team members build, assure, share and use knowledge to define and maintain professional standards in nursing through education, learning and development.
Nursing knowledge as a catalyst for change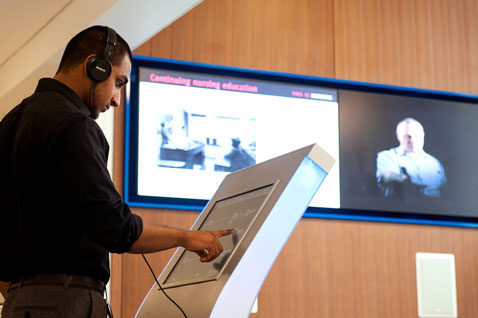 As a member of this team you'll work to establish the RCN as the foremost source of knowledge about professional nursing. You'll ensure we're valued as an innovative and accessible support to nursing staff and policy makers who will use the knowledge we provide to drive up standards, achieve excellence and deliver effective person-centred care.
You'll work closely with members, RCN staff, colleagues in other royal colleges and a range of external stakeholders, and your efforts will support and complement that of colleagues in the Policy and International department, the Employment Relations department, our Contact Centre RCN Direct, RCN libraries, and country-focused policy teams as they respond to their national priorities.
Job opportunities within this area will relate to one of our three teams.
The Research and Innovation team, which promotes excellence in care through nursing and health research, development and innovation. Activities range from reviewing literature to devising and undertaking bespoke research/development projects, and exploring and understanding innovation in practice.
The Standards team, which oversees the application of the RCN Quality Framework, leads work on RCN-led professional standards, contributes to work on nursing data and documentation, and facilitates RCN nursing representation on national and UK forums
The Royal College of Nursing Library and Heritage Centre, which is home to Europe's largest nursing-specific collection of books, journals and e-resources. The Nursing History Collection also provides access to the RCN's historical print collection, which includes rare and old books and journals.
Why apply?
Members of the SKIS team are drawn from a range of backgrounds, some of them are nurses and some bring equally valuable skills from other relevant experiences. Your expertise combined with a passion for the robust development of knowledge, information and innovation could make all the difference to our role as a professional body.