Contact Centre
RCN Direct is our contact centre based in Cardiff providing telephone, email and webchat services for members across the UK. There are 2 main teams – Membership and Advice. Whether members need help with a membership issue such as updating their personal details or practical advice with work related matters, our teams are ready to help. We care for our members and provide a person-centred service.

The contact centre is a friendly and welcome place to work where we genuinely embrace diversity and in 2018 this was recognised when we won the Welsh Contact Centre Diverse Workplace Award. In a recent staff survey, some of the comments from staff included "There's a genuine feeling of 'teamwork' in my team, my colleagues support in whatever way they can" and "My team are fantastic - we work well together, and I am never afraid to ask for help".
Membership Team
The Customer Support teams are here to help members right from the very start of their membership journey with the RCN. From that first contact we make sure that members are matched to the correct membership category, they know how to get the most out of their membership and have a payment plan to suit their circumstances.
The team are multiskilled and provide a first-class service to members however they contact us whether that's by phone, email, webchat or social media; we aim to resolve their query on first contact.

That's not all - retention of members is a vital part of the work we do; we call members to offer support and guidance about how they can maintain their membership payments.
Maintaining up to date knowledge is crucial to this role and we provide time out each month for learning. You'll need to be a good listener, have great attention to detail, enjoy problem solving and have a friendly, enthusiastic telephone manner.
If customer service is your passion and you like a varied role why not set up a job alert – here, so you know when we are recruiting.
Advice Team
The Advice team offers information and support seven days a week that really makes a difference to our members lives. We help with a wide range of work related topics including complex legal and employment relations issues.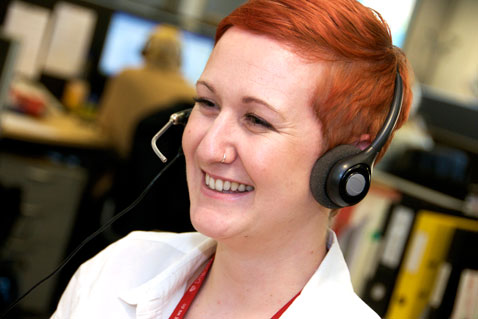 Advisers need to be methodical, agile, detail focussed and effective at multi tasking. They need to have up to date knowledge, be interested in people, and be able to risk assess and problem solve.
Dealing with these often emotive and challenging situations requires empathy and the ability to be non-judgemental which also requires resilience and stamina.
The advice a member receives can impact on their employment, so integrity and presenting practical, accurate and sensible advice is key.
It's both a challenging and rewarding job- click here to find out more about the Adviser Role.
Why apply?
Our contact centre promotes the work of both the trade union and professional body aspects of the RCN, supporting our members in their times of need and helping them to develop. We invest heavily in staff development and the skills you learn with us will give you a springboard to a variety of careers, both internal and external.

Find out why Kirsten thinks you should join us in the video below.