Marketing and Events
Our Marketing and Business Development department's remit ranges from the organisation of RCN Congress: the biggest event in our calendar; to seeking ethical partnerships; promoting products and services; and leading on the recruitment of new members. Planning, research and collaboration are absolutely key to this department's success.
Marketing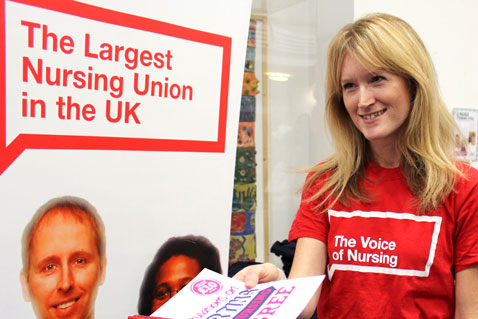 Working within the Marketing team you'll take pride in promoting our offer to nursing staff throughout the UK, showcasing the benefits of RCN membership. Using business and marketing intelligence, you'll devise and implement campaigns to attract new members to the organisation and retain those already in membership.
Equipping our staff and representatives with tools to recruit and retain members will be another way you'll help the business to grow. Undertaking market research, scanning the health care environment, monitoring competitors and the ongoing measurement of member satisfaction will ensure you're delivering what's needed.
You could also get involved in generating income through our Professional Services portfolio.
Corporate Relations
If you excel at initiating and maintaining professional relationships, you could be the perfect fit for our Corporate Relations team. Responsible for securing sponsorship for our projects and selling exhibition space at RCN conferences, you'll work with a range of organisations including those in the pharmaceutical industry, medical device companies, charities and recruitment companies, ensuring all work is ethical, appropriate and mutually beneficial. You'll advise internal departments pursuing sponsorship and proactively seek sponsorship for campaigns, exhibitions (including our annual RCN Congress), publications and web advertising.
Conference and Events
Our expertise-driven events and exhibitions take place throughout the UK and we specialise in delivering cost-effective, informative and progressive programmes to enhance nursing practice. Join us and you could be organising RCN Congress and our annual general meeting, clinical conferences, the RCN's prestigious international nursing research conference and national workshops. You will aim to deliver events that are both valuable and enjoyable, contributing to our members' continuing professional development, which will ultimately improve patient care.
Why apply?
Our Marketing and Business Development department is somewhere you can really make a difference. By strengthening our member offer, organising inspiring events to empower our members or engaging financial support to help us deliver, you will be ensuring the RCN can continue supporting nursing staff for another hundred years.