Employment Relations
As both a trade union and a professional body, employment relations is at the very core of our business. Based throughout the UK, our senior officers and officers support our members and help to shape health policies of the future. They are the RCN's trusted advisers, mediators and advocates. The Employment Relations department provides the UK strategic lead on pay and conditions for nurses and health care assistants, wherever they are employed.
Fighting for members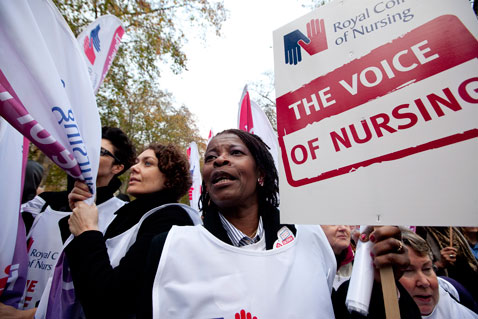 Our senior officers and officers operate at the front line of the health sector in Northern Ireland, Scotland, Wales and England, and are relied upon to share intelligence and build evidence of the challenges nursing faces and the positive impact the profession makes. By joining them, a large portion of your time will be spent on casework, representing our members at crucial points in their careers to ensure they get the best possible outcomes.
Our officers come from a range of backgrounds. Many are registered nurses who may have spent time as an RCN representative in a large trust before deciding to work for the RCN full time. Some come from legal backgrounds, which make them well suited to the high level of casework they will oversee. Some have come from other unions or departments within the RCN. Whatever your background, you can expect a supportive working environment that focuses on robust development and offers competitive benefits.
Pay and conditions for the UK's nursing staff
Our central Employment Relations department monitors economic and social trends and gathers intelligence on the nursing labour market, including workforce developments. As a member of our team this will enable you to negotiate the best possible outcomes for our members and influence the working environment effectively. We negotiate with the NHS and other public and private health care employers that recognise the RCN.
We are responsible for supporting an effective structure for our stewards, safety representatives and learning representatives across the UK; and our learning and development team is responsible for delivering an unrivalled, high quality and externally accredited learning and development pathway for the RCN's accredited representatives.
Why apply?
Your work will be challenging, but incredibly rewarding. At the forefront of our work with members in need, your support will make all the difference to nurses and health care assistants who are doing their best to care for their patients. Each team is different, but you're guaranteed to be working with some of the most passionate people we're lucky enough to call our staff.
Find out why Sharon thinks you should join us in the video below.