Recognition
Recognising the creativity, endeavour, commitment and achievement of our staff is very important to us and we celebrate the outstanding work done by our staff in a variety of ways.
Staff Awards for Excellence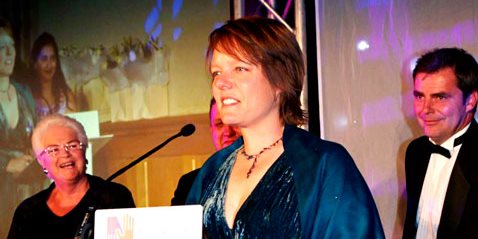 Our Staff Awards honour the achievements and commitment of our people. Staff nominate their colleagues in categories including Outstanding Newcomer, Team of the Year and Manager of the Year, and everyone shortlisted for an award is invited to a formal awards ceremony. Over the years we have been delighted to welcome individuals such as Michael Ball and Jo Brand to hand out awards and celebrate our staff's outstanding work.
Staff Suggestion Scheme
Our Staff Suggestion Scheme rewards innovative ideas for improving our services, increasing our efficiency and making the RCN an even better place to work. We believe our staff are in the best place to tell us what we could be doing better, so we actively encourage as many submissions as our staff can think of.
Long Service Awards
Staff members are also recognised for their services to the organisation at our annual Long Service Awards. At this ceremony we reward individuals with vouchers, a certificate and a thank you for their continued commitment.
Giving Something Back
We recognise the importance of supporting our local communities and empower our staff to identify services in need that could benefit from their skills. Team away days are often focussed around supporting charities and not-for-profit endeavours, and we now run an annual RCN-wide food bank collection every winter.