Our awards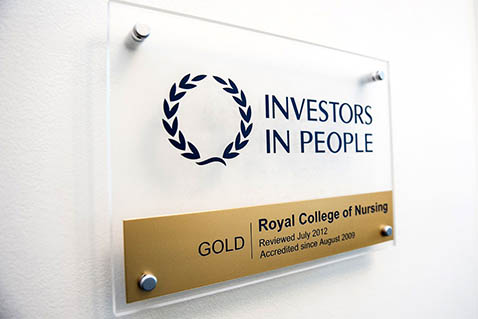 We are extremely proud to have received substantial external recognition for our work as an employer. As a trade union we believe it is vital that we practice what we preach and lead by example in the ways we support our employees. For us, the following awards represent our ongoing commitment and determination to be the very best employer for our outstanding staff.
Disability Confident
As a proud member of the Disability Confident employer scheme we actively encourage applications from people with disabilities. We have recently became accredited as a Level 2 Disability Confident Employer under the Department for Work and Pensions scheme. We strive to incorporate equality and diversity into everything we do, so that it is an integral part of our business and our working practices make us a government-recognised 'Disability Confident' employer.
Investors in People
The RCN is proud to be have been accredited with Investors in People since 2009. We have recently been accredited to silver standard, one of the highest levels of accreditation within the Investors in People framework.
Health and wellbeing
In 2013 we were awarded the Royal Society for Public Health's Health & Wellbeing Award for our UK-wide workplace health and wellbeing programme. We were praised for the development of our internal health and wellbeing advocate role, taken up by staff members who encourage their colleagues to lead healthier lifestyles through means such as our Bicycle User Group, local fitness groups and participation in the Virgin Pulse Challenge. We have also received special recognition for our health and wellbeing programme in 2013, 2015 and 2018 from Investors in People and in 2011 from Best Companies.
Health and safety management
Since 2011 the RCN has been accredited to ISO45001 Health and Safety Management System, an internationally recognised standard. This demonstrates our ongoing commitment to continually improving our health and safety performance and our compliance with health and safety legislation.