Governance
Our governance teams ensure our members are at the heart of decision making at the RCN. Working collaboratively across three distinct areas, these staff support our senior leaders, engage with and support our membership, and help run our charity: the RCN Foundation.
Chief Executive & General Secretary's office
In this team you'll provide executive assistant support to our Chief Executive & General Secretary, President and Deputy President.You'll ensure that the Chief Executive & General Secretary's time and that of the President and Deputy President is put to the best use: meeting with and talking to members; promoting the very best in nursing; influencing the nursing agenda; and working to improve nursing terms and conditions.
To find out more about the senior leaders within the RCN, visit the Our Structure pages of our website.
Governance Support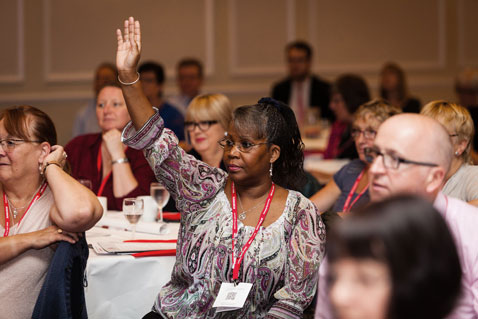 Within the Governance Support team you could help co-ordinate and service over 100 meetings every year, as well as the RCN business meeting at Congress and our annual general meeting, and manage the election and appointment of members to RCN committees.
We work hard to ensure that members are communicated with and consulted on all key decisions in a timely and effective way, so you could also get involved with sharing the decisions that RCN Council makes, the reasons for those decisions and how members' views informed them.
Visit the RCN Council committees and boards page of the RCN website for more information on how they work and their current priorities.
RCN Foundation
The RCN Foundation is a small, independent grant-making charity with its own board of trustees.
Our staff support the trustees to fund project grants and bursaries to improve the health and wellbeing of the public and provide vital support to help members of the nursing team get their lives and careers back on track in times of need.
Find out more about the RCN Foundation.
Why apply?
We have a wide variety of roles within our department which could help you develop your skills as a personal assistant, fund-raiser, administrator or line manager. Whichever role turns out to be the one for you, you will have direct contact with our members and those running our organisation.